I have received a tribute from an old friend that I am not even close to being vaguely worthy of. My old (well, he is not
that
old) friend
Rob Asghar has penned a kind post
about
John Wooden
, the most famous of all college basketball coaches, and me. Coach Wooden and me...can you imagine? I can't.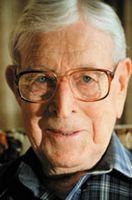 "Coach"
As I mentioned to Rob in a recent email, Coach Wooden has, for me, been a hero, a role model, and a literary mentor of sorts. I have read most
everything he has written
; each full of wisdom, grace and experience from life. While I attended
UCLA
a few years after Coach retired, I felt the influence he left on the University for many years to come. Rarely has such a quiet, gentle man of profound faith, has such a lasting affect on athletics. Rob Asghar says it much better than I can. However, Mr. Asghar might also want to read
this
.