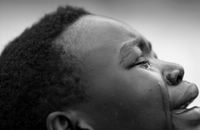 A World Full of Contrasts - Ryan Spencer Reed
Today the sun was warm. Our family headed to church, where things are beginning to look more hopeful, although there still is much ground to cover until even the healing can begin. We came home and stopped by the school fair, where we watched dancing elementary kids perform, ate cotton candy, enjoyed cool drinks in the shade with friends, and reveled in the blessing of our small town in the middle of the big city.
We came home, and jumped in the pool. The water was cool and refreshing, but not too cold. Like the porridge that was "just right". Other kids came over, and soon the yard was full of splashing friends and neighbors. We ate a good dinner as the sun went down. Another day in paradise.
But during the past several weeks, we have seen a dear friend loose her battle with cancer, and another good friend diagnosed with a debilitating disease that will eventually take his life, while at the same time struggling with the impending death of his own grown daughter from brain cancer - who is a wife and mother herself. And earlier this week, we learned of the death of a 17 year old from another form of cancer he fought bravely for 5 years. We stood in the door of our church today, and listened as our pastor said, with sadness in his eyes, "we need to just have people around here stop dying!"
And, as I was ending my day today, I found this, which you need some time to look at, but is so worth the time, because it provides contrast to our seemingly happy lives. We need this contrast, a sense of balance if you will. I was also touched by this, we evangelicals need to embrace the arts. I am sorry, but Thomas Kinkade does not sum up all of Christian art for me.
God is at work. He reigns. Sometimes though, I am not at all sure how it all works.