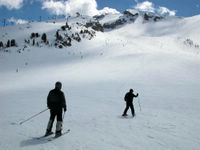 Heading here
Tomorrow morning our family heads to Mammoth Mountain. My wife and I have not been on skis for about 20 years, and our girls (aged 11 and 14) have never skied.
So, a family adventure in the making. A late spring time to make some memories together, and hopefully return home together with all of our bones intact. We are thankful for this time together, in the midst of our busy, noisy, and full lives.
I plan on taking
this book
along with me on the trip. In the few moments of silence I am allowed, I would pray that God might meet me anew, and refresh my busy soul - so that I might know more of his presence and mercy.
Until next Thursday or so.......