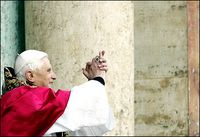 And they came running....
I did not know it, but when the bells of St. Peters began to ring on Tuesday, the citizens of Rome, came out of shops, and offices, and homes....and ran to St Peter's Square. What for? For an answer....
see this
. And then, take a look at
this
. People running, again. Modern and ancient, brought together.

Beautiful. I love Peggy Noonan.

And might I add a personal reflection? Is this not the world we, those of us who follow Christ, are trying to build? A world where all of us, young and old, rich and poor, lovely and plain, burst forth from out offices, shops, and homes to run to see the King. Jesus. May it be so Lord, help us to see the way.